St Columba's United Reformed Church
30 Northumberland Square | North Shields | NE30 1PW
Weekly Update #13: Sunday 14th June 2020
Image: Sourced from New Statesman; © Giulia Spadafora/Nurphoto via Getty Images
From the Minister – Getting Rid of Statues
Many of us will have seen images of Edward Colston's statue being tipped into the river in Bristol. Colston earned his statue by being a member of parliament, a prominent merchant and, a philanthropist. His charitable activities (and wealthy lifestyle), however, were financed through slave trading. I'm uneasy about letting crowds make such decisions. Yet, if, for example, Jimmy Savile's statue had been left in place for years, despite requests for its removal, and was then so treated, I'd have had no such qualms. Removing congratulatory memorials to those who brought significant, long lasting misery to the lives of others and their descendants seems like a good idea to me, especially if it's as part of creating a just, inclusive, flourishing society today: 'Let justice roll down like waters, and righteousness like an ever-flowing stream.' (Amos 5:24)
Trevor
Pray
Eternal God,
As we observe the pain of a fractured world,
use your love to drive us from sadness to compassion;
as we watch the pain of the bereaved,
use your love to move us from pity to companionship;
as we are faced with the pain of marginalised people,
use your love to point us from complacency to your commonwealth.
Amen
From a prayer which forms part of the URC statement on the killing of George Floyd. 
Back to Church?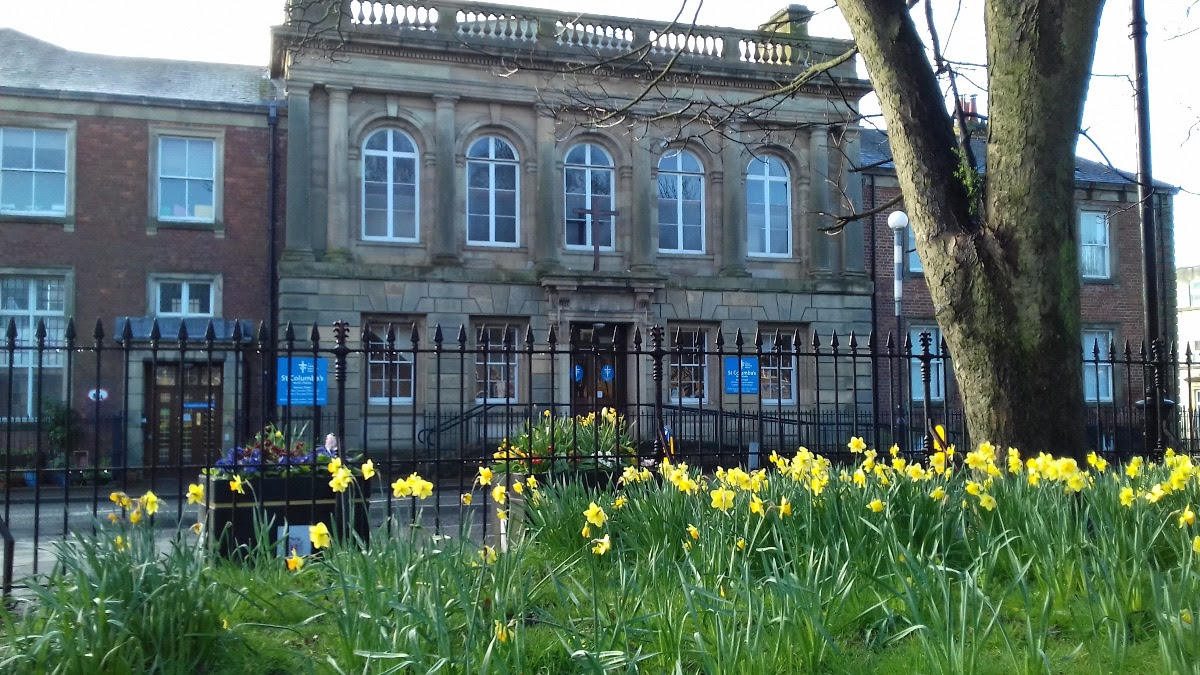 From the Minister and Elders
Thoughts from the Minister and Elders on that way back to meeting in church building, plus news of conversations taking place about future activities.
St Columba's Elders are meeting frequently (online), keeping a close eye on the prospects for returning our building to use. We will be attending both to government directions, and to guidelines from the URC at denominational level. Returning to church must be safe, which means that when things happen, they will do so slowly, and in stages. Sadly, at the moment, we have to think in terms of weeks and months, not days and weeks.
Click here for further details.
Options for Worshipping at home this Sunday
Online           URC audio service (
https://devotions.urc.org.uk/
 )           10.00 a.m.
Radio            Radio 4          Sunday Worship                                          8.10 a.m.
Television      BBC1             Sunday Worship                                         10.45 a.m.
Songs of Praise                                           1.15 p.m.
DISCLAIMER: TV and Radio schedules can change, so check the timings are correct!
Evening Reflective Worship
Ann Sinclair, a frequent visiting worship leader for St Columba's, kindly has sent us her thoughts for the evening service that never was on June 7th. You can
find that here
 or request a copy from Trevor Jamison.
Bible readings for Sunday
From the Revised Common Lectionary
Genesis 18:1-15, (21:1-7)  A child for Abraham and Sarah is promised (and arrives)
Psalm 116:1-2, 12-19          Thanksgiving to God for deliverance from danger
To hear a wonderful musical response to this psalm's opening verse, click here.  
Romans 5:1-8                       Peace with God through Jesus Christ
Matthew 9:35-10:8 (9-23)   Jesus calls and sends twelve disciples
You can read the Bible passages online at https://www.biblegateway.com/
Reflection on the Readings
Easter and Pentecost are over. Now our Sunday readings come from a long season which goes all the way to late November. The Church calls it, "Ordinary Time". Doesn't seem like the most appropriate title for where we are at the moment, does it? One option we get, and which we are taking, is to follow a series ten great stories from the Book of Genesis. Today, God communicates a promise to Abraham via three mysterious visitors (illustrated here in Rublev's Icon). His wife, Sarah, will have a child. They had had to wait a long time for this child. This involved trusting God, despite difficulties, which, to me at least, doesn't seem so far away from our (extra)Ordinary Time(s) after all.
For further reflections and prayers relating to these readings, click here.
St Columba's Coffee and Conversation – Saturdays at
10.00 a.m.
Join the conversation on the day by clicking here.
Meeting ID: 874 6974 4697, Password: 851274
To join by telephone, dial this local rate number: 0203 051 2874
For information or help, contact Mathew Hall: 07792782647 or
mathew.hall@stcolumbas-urc.org.uk.
Online Prayer Gathering on Sundays at 6.30 p.m.
A thirty-minute opportunity for prayer together and hand it all to God, including learning a shared signed-response to some prayers.
For further information, contact Charlene Clark charleneclark@hotmail.co.uk
To join, when the time comes click here.
Password: 628330
Columba Conversations – from Thursday 18th June
at 7.15 p.m.
Six weekly, relaxed conversations, led by Trevor Jamison, to (re)explore things we're taught as children and might believe as adults.
Believing in God
We need God in our lives
The life and ministry of Jesus
The death and resurrection of Jesus
The Holy Spirit
Being/becoming a Christian.
Meetings will be one hour long. To join the meeting, click on the link or telephone in.
Meeting ID: 846 1669 5063       Password: 041965       Dial  0131 460 1196
If you can't join in, don't hesitate to contact Trevor to request a copy of the handout relating to the meeting
Keeping in Touch
We will keep in touch with each other. Elders will have a list of members and friends to contact each week, both to provide information and to ensure that people are safe and well. You can contact your designated Elder, the Minister, or Church Secretary.
Minister: Reverend Trevor Jamison                 Church Secretary: Alison Drew
minister.northshieldsurc@gmail.com               [email protected].com
0191 290 1193         07896 899538                 0191 251 9774
Copyright © 2020 St Columba's United Reformed Church, All rights reserved.
Registered Address: