St Columba's United Reformed Church
30 Northumberland Square | North Shields | NE30 1PW
Weekly Update #16: Sunday 5th July 2020
From the Minister
Sunday the 5th of July will mark seventy-two years since the NHS and social care system was established in the UK. Many of us have various reasons to be thankful for the care we have received from the NHS. This year, we all share that feeling of thankfulness; deep gratitude for all those workers who have been dealing with the effects of Covid 19. The NHS was born out of the radical upheaval of worldwide war. I wonder if the upheaval from a worldwide pandemic will also bring positive social changes.
Trevor
p.s. Religions have sometimes grown in times of social upheaval – just a thought. TJ
Prayer
O God, who in your Son, Jesus, made the sick well,
We thank you for the good healthcare that we receive,
And we thank you for those who provide it.
And in this time of upheaval, give us, we pray, a vision
For the changes that will enable everyone to live and flourish,
As you intend.
Amen
St Columba's – Worship on Sunday July 5th at 10.30 a.m.
We will be worshipping together online, including holding a virtual communion, on Sunday July 5th at 10.30 a.m. We will use Zoom software that enables those who have internet to see and hear what's happening. Those who do not have internet will be able to dial in to a local-rate telephone number to hear the worship.
This service will be recorded, so if you want to watch or listen at a different time please contact Mathew Hall.
The link for the service is here.
Telephone Number: 0131 460 1196
Meeting ID: 812 2884 9949  Password: 299544
If you are uncertain about how to link up with the service, online or by phone, we have a practice session on Friday 3rd July, 10.00 – 11.00 a.m., hosted by Mathew Hall. To join, when the time comes click here.
Telephone Number: 0131 460 1196
Meeting ID: 861 9662 2918  Password: 436589
Back to Church?
Work continues to make ready for return to our church buildings. In next week's Weekly Update, our Elders hope to share with members of the congregation what will be involved in returning to worship in the building, and offer members a way to indicate when they will feel confident to return.
Some of us may feel reticent about returning quickly, and that's ok, as this poem by Bonnie Thurston, an American New Testament scholar and writer on spirituality, suggests.
A Process Not to be Hurried
Long solitude is a gradual
drawing inward, going deeper,
like autumn bulbs
snuggling into the soil,
marinating in darkness.
When the isolation ends,
do not hurry the process.
First the shy, green shoot,
then the tentative tip
of a fragile stalk arises
to carry a bud opening
slowly, in its own time.
From The Christian Century, June 25, 2020. Link
Options for Worshipping at home on Sunday
Online           URC audio service (
https://devotions.urc.org.uk/
 )           10.00 a.m.
Radio            Radio 4          Sunday Worship                                          8.10 a.m.
Television      BBC1             Songs of Praise                                           1.15 p.m.
DISCLAIMER: TV and Radio schedules can change, so check the timings are correct!
Sunday morning worship has disappeared from the BBC1 television schedule, presumably because churches are supposedly open from July 4th. That seems premature to me – lots won't be open for some time. Also, it takes away something that had been on offer to those who can't get to church buildings at any time. I've emailed the BBC to express my disappointment. If you wish to comment to the BBC you can do so at this link. TJ
Bible readings for Sunday
From the Revised Common Lectionary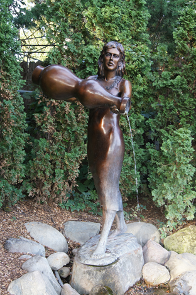 Genesis 24:34-38, 42-49, 58-67
Arranging a marriage for a future dynasty
Song of Solomon 2:8-13     A love song
Romans 7:15-25a
We're our own worst enemy (but we have a friend)
Matthew 11:16-19, 25-30
Different responses to what Jesus offers
Rebecca at the Well – David Williss
Jesus said, 'Come to me, all you that are weary and carrying heavy burdens, and I will give you rest.' (Matthew 11: 28)
You can listen to the hymn, "I heard the voice of Jesus say come unto me and rest", sung by the choir of Manchester Cathedral here.
And in very different style, sung by the choir of Oakwood University here.
You can read the Bible passages online at https://www.biblegateway.com/
Reflection on the Readings
Abraham wants a wife for his son, Isaac, so he instructs his servant to travel back to the old country to identify a likely bride. Rebekah (upon whom jewels are heaped) and her family agree. As she nears Canaan the unwitting groom comes close, so Rebekah covers her face (as we all do these days). The presumably surprised Isaac brings his bride-to-be home, and we're told, she became his wife, and he loved her' – romance! – and, 'so Isaac was comforted after his mother's death' (not quite so romantic). Genesis remains silent about what Rebekah thought of Isaac. It's a marriage which produced a complicated family, with two warring sons, but which included twelve grandchildren that formed the basis for ancient Israel, and among their descendants was one Jesus of Nazareth.
For further reflections and prayers relating to the readings, including about what it feels like to carry burdens in life, click here.
Church Trip to Helmsley – Cancelled
Unfortunately due to the current Pandemic of Covid 19, we have had to cancel the planned trip to Helmsley on Friday 10th July 2020. We hope to reschedule the trip for later in the year, or early next year depending on Government Advice.
St Columba's Coffee and Conversation – Saturdays at
10.00 a.m.
Join the conversation on the day by clicking here.
Meeting ID: 826 0929 4061, Password: 244084
To join by telephone, dial this local rate number: 0203 051 2874
For information or help, contact Mathew Hall: 07792782647 or
mathew.hall@stcolumbas-urc.org.uk.
Online Prayer Gathering on Sundays at 6.30 p.m.
A thirty-minute opportunity for prayer together and hand it all to God, including learning a shared signed-response to some prayers.
For further information, contact Charlene Clark charleneclark@hotmail.co.uk
To join, when the time comes click here.
Meeting ID: 898 4789 6630 Password: 344655
Columba Conversations – from Thursday 2nd July
at 7.15 p.m.
Fourth in a series of six weekly, relaxed conversations, led by Trevor Jamison, to (re)explore things we're taught as children and might believe as adults. This week: The Death and Resurrection of Jesus
Meetings will be one hour long. To join the meeting, click on the link or telephone in.
Meeting ID: 825 5982 6070      Password: 545742       Dial  0131 460 1196
If you can't join in, don't hesitate to contact Trevor to request a copy of the handout relating to the meeting
Keeping in Touch
We will keep in touch with each other. Elders will have a list of members and friends to contact each week, both to provide information and to ensure that people are safe and well. You can contact your designated Elder, the Minister, or Church Secretary.
Minister: Reverend Trevor Jamison                 Church Secretary: Alison Drew
minister.northshieldsurc@gmail.com               [email protected].com
0191 290 1193         07896 899538                 0191 251 9774
Copyright © 2020 St Columba's United Reformed Church, All rights reserved.
Registered Address:
St Columba's United Reformed Church
30 Northumberland Square
North Shields, Tyne and Wear NE30 1PW
United Kingdom
St Columba's United Reformed Church Charity is a registered charity in England & Wales, number 1164784.