St Columba's United Reformed Church
30 Northumberland Square | North Shields | NE30 1PW
Weekly Update #131
13th  November 2022
From Andrew                                      Remembrance
Today we remember those who served in the World Wars of the last century, and ongoing conflicts up to the present day.  We give thanks for their bravery in extraordinary situations.  We remember too those (both military and civilian) who have suffered in wartime, with a terrible toll of death, bereavement, injury and mental and emotional impact.
We feel powerless when we hear in the daily news of ongoing wars and armed conflicts in Ukraine, Ethiopia, Myanmar, Yemen, and many other places today.
There are no winners in war, just death, destruction, dislocation and loss.
The Royal British Legion was founded in 1921 to support military veterans and their families, and has run its annual poppy appeal each year since then.  Together with other charities it provides support to veterans, helping with recovery, physical and mental wellbeing, care, reintegration into society after service, financial and employment support.
This week is also marked as Inter Faith Week, celebrating diversity, understanding and cooperation in Britain, and remembering that people of all faiths serve in war.
Andrew
Photo by Adam Jones on Unsplash
Prayer
Loving God, we remember with sadness the tragedies of war, when humans find themselves fighting and treating each other with inhumanity.  Forgive us, we pray, and in your mercy, deliver us from war to peace.
Amen.
WORSHIP SERVICES THIS SUNDAY 
Sunday 13th November
10.30 am Remembrance Sunday service led by Trevor Jamison – a communion service during which we remember those who have suffered and died during wartime.
NEXT WEEK – Sunday 20th November
10.30 a.m.   Shoe Box Sunday service led by a team of church members – dedicating gifts brought for Operation Christmas Child.
Livestreamed Worship from Saint Columba's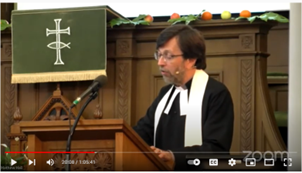 Each Sunday morning we livestream our services from Saint Columba's.  To watch the service live, catch up with it later in the week, or view previous services, click here.
Bible readings for this week – Remembrance Sunday       
Isaiah 65: 17-25                   A prophecy of a blessed new Jerusalem
Isaiah 12                               Praise for God's salvation
Malachi 4: 1-2a                    A prophecy of the day of God's judgement
Psalm 98                               Praise, as God comes to judge the world
II Thessalonians 3: 6-13    A warning against idleness and disruption
Luke 21: 5-19                        Jesus prophesies the bad times to come before the end
You can read the Bible passages online at https://www.biblegateway.com/
Reflection on the readings
Scripture is a source of hope, but it does not shy away from the gritty realities of this world.
Isaiah (65) paints a beautiful vision of a world restored, recreated by God, perhaps to be as it had always been intended.  Sorrow will be replaced by joy, people will enjoy long life in their own homes, eating their own fruit in peace.  Even the natural world will be transformed from competition and violence to harmony.  It seems almost too good to be true.
Jesus tells us that first will come destruction, disasters and persecution.  The imagery is all too familiar in our time of wars, climate change and intolerance.  He urges us not to be distracted by material things or by false leaders (Luke 21: 6, 8), but to trust in God to see us through (Luke 21: 18-19).
In the Old Testament, God is sometimes seen as a national saviour, bringing victory (Psalm 98: 1-3).  But God is not like a team mascot.  God is above all the nations, and will bring justice and restore all things on the day of judgement (Psalm 98: 9).
Image: The Siege and Destruction of Jerusalem by the Romans Under the Command of Titus, A.D. 70, by David Roberts, Public domain, via Wikimedia Commons.
HANDS Christmas Coffee Morning – Saturday 19th November
You are invited to a Christmas coffee morning in St Columba's Church Hall on Saturday 19th November from 10.00 am to 12.00 noon.  Enjoy coffee or tea and mince pie or cheese scone for £2.  There will also be a tombola, handicrafts, and a cake stall.  Proceeds will go to Nite Bite.
Christmas Hamper
HANDS is organising a Christmas hamper of tinned and dried goods and toiletries for the People's Kitchen again this year.  A box will be in the church hall until Sunday 4th December, and all contributions will be gratefully appreciated.
Next Update – Sunday 20th November
John Drew will edit the next Update.  To get your information in both the online and printed editions, please have it with him by Tuesday 15th November.
Keeping in Touch
You can contact your Elder, the Minister, or Church Secretary.
Minister: The Reverend Dr Trevor Jamison     Church Secretary: Alison Drew
minister.northshieldsurc@gmail.com               [email protected]
0191 290 1193         07896 899538                 0191 251 9774
Copyright © 2022 St Columba's United Reformed Church, All rights reserved.
Registered Address:
St Columba's United Reformed Church
30 Northumberland Square
North Shields, Tyne and Wear NE30 1PW
United Kingdom
St Columba's United Reformed Church Charity is a registered charity in England & Wales, number 1164784.