St Columba's United Reformed Church
30 Northumberland Square | North Shields | NE30 1PW
Weekly Update #116
10th July 2022
From the Minister                     Another Jubilee
Does the weekend celebration of the Queen's platinum jubilee seem like it happened a long time ago? It feels that way to me. Now I've got another jubilee in mind. It's the golden jubilee – fifty years – of the formation of the United Reformed Church. In October 1972, the Presbyterian Church of England and the Congregational Church of England and Wales came together to form a new denomination. The first time two different church traditions had done that in the UK. Also, in following years the Churches of Christ and congregations from the Scottish Congregational Church have joined with the URC. The Queen's jubilee was a celebration, but our jubilee is not quite that. Yes, there are things to celebrate, but there were hopes that this union would be the first step to a wider union with others such as Baptists, Methodists and the Church of England, and that has not happened. It was as if the URC was invented with the intention of dying but we find ourselves still alive fifty years later, wondering why we are still here. In the Bible, 'jubilee' was a year when things in society would be reset before moving forward again. Our golden jubilee is an opportunity to mark the past (including some celebration) and reset things for our journey into the future.
Trevor
Image: United Reformed Church
Prayer
O God, we thank you for your Church. Help us to value our past, love our fellow Christians in the here and now, and look with hope to the future you give us. Amen.
WORSHIP SERVICES AT ST COLUMBA'S
WORSHIP SERVICES THIS SUNDAY – Sunday 10th July
10.30 a.m. Communion service at St Columba's
Led by John Drew, with Lisa Stoker and Helen Saunders, on the theme, 'Who is this God?'
NEXT WEEK – Sunday 17th July


10.30 a.m. service at St Columba's
Led by Trevor Jamison, on the theme of being reconciled with God and with each other.
3.00 p.m. Messy Church at Saint Columba's
"It's All About Fishing?"
Intergenerational, activity-based worship – bring your family and your friends and take part!
Bible readings for this week
Deuteronomy 30:9-14      God's commandments are not that hard
Psalm 25:1-10                  'Make me know your ways, O LORD, teach me your paths
Colossians 1:1-14            Spiritual wisdom and understanding.
Luke 10:25-37                  God'
s command to love your neighbour is like this …
You can read the Bible passages online at https://www.biblegateway.com/
Reflection on the Readings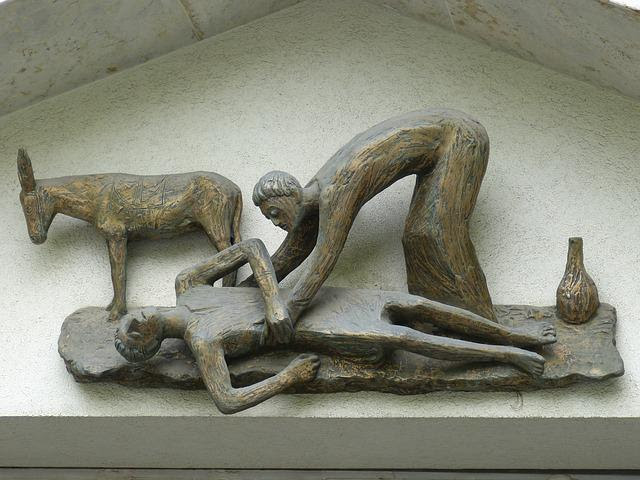 A lawyer has a question for a teacher: 'what must I do to inherit eternal life?' (Luke 10:25) The teacher (Jesus) replies to the question with a question: 'what is written in the law?' (10:26) The lawyer replies correctly. (10:28) The religious law calls for love of God and neighbour. (10:27) Then the lawyer has another question, one about the definition of 'neighbour.' (10:29) Jesus, the teacher, replies but with a story (29-35), before asking yet another question. (10:36) The story is so good that it has generated a title that's proverbial: 'Good Samaritan'. Finally, the lawyer, and everyone else who has been listening in on the conversation and the parable, is invited to go and do things the Good Samaritan way. (10:36) I notice that in Luke's Gospel this conversation about doing comes immediately after the account of Jesus sending out seventy (or seventy-two) disciples to tell people that 'the kingdom of God has come near.' (10:9, 11) Telling and doing, word and action, are both part of life as a follower of Jesus. According to the situation sometimes we will be doing more of one than the other, but the whole life of discipleship involves both.
A Hymn that responds to the readings
When I needed a neighbour were you there? By Sydney Carter.  To listen, click here.
News and Notices
Church Meeting on 'Legacies of Slavery' – 19th July 2022 at 7.15 p.m.
We are holding a one-topic Church Meeting as part of a wider conversation that is taking place across the United Reformed Church relating to what is called, 'Legacies of Slavery.' Briefly, we're asked to consider the enduring impact of transatlantic slavery in British society and churches today, and how best to respond to that. In support of our meeting you will find a background paper, questions for discussion, and 'frequently asked questions'. You may also want to wish this video about 'legacies of slavery' and the United Reformed Church.
Minute taker needed for Church Meeting on 19th July
We urgently require a volunteer to take minutes of the Church Meeting on 19th July. Please contact Alison Drew with your offer to undertake this task.
God, Greed and Truth: Being Faithful in a Disbelieving World
Three Bible Exploration Meetings – Mondays on Zoom, repeated Thursdays in-person at Saint Columba's URC, starting on 18th July.
How do Christians make sense of a world in which so many people do not share our beliefs and values? With help from selected Bible passages we'll have conversations about belief, ethics, and knowing what's true.
On Zoom: Mondays 18 and 25 July, 1 August at 7.15 p.m.
To join Zoom meeting, click here.
Meeting ID: 867 7464 7368            By phone:  0131 460 1196
In-person at Saint Columba's: Thursdays 21 and 28 July, 4 August at 7.15 p.m.
Photo montage group for URC 50th Anniversary service – members sought
The United Reformed Church came into being in October 1972, fifty years ago. At Saint Columba's, we will mark this golden jubilee in our morning service on 2nd October. We intend to create a montage of images to show on screen during the service, reflecting events and activities in the life of St Columba's URC and the wider world during these five decades. We are forming a small group to collect, organise and choose images which will be in slideshow at the service. If you would like to be part of that group please contact Trevor Jamison by Monday 25th July.

Image: The United Reformed Church
Next Week's Update
Next week's Update will be edited by John Drew.  To get your information in both the online and printed editions, please have it with him by Tuesday.
Keeping in Touch
You can contact your Elder, the Minister, or Church Secretary.
Minister: The Reverend Dr Trevor Jamison     Church Secretary: Alison Drew
minister.northshieldsurc@gmail.com               [email protected]
0191 290 1193         07896 899538                 0191 251 9774
Copyright © 2022 St Columba's United Reformed Church, All rights reserved.
Registered Address:
St Columba's United Reformed Church
30 Northumberland Square
North Shields, Tyne and Wear NE30 1PW
United Kingdom
St Columba's United Reformed Church Charity is a registered charity in England & Wales, number 1164784.