St Columba's United Reformed Church
30 Northumberland Square | North Shields | NE30 1PW
Weekly Update #3: Sunday 5th April 2020
From the Minister
Palm Sunday. That almost took me unawares. At the moment I'm having to work hard to remember what day of the week it is. Much of my week's normal structure has disappeared, not least the difference between weekday and weekend, including going to church on Sunday. Conversations with church members tell me I'm not the only one. So I'm grateful for a special Sunday, not only reminding me what day of the week it is but where I am in the year – Easter's coming soon. In God's great story, from creation to the re-creation of everything, we're past the midway point because we live after Jesus was born. And in the retelling of that story of Jesus, things are coming to their climax in Jerusalem. That's where and when we are today.
Trevor
Pray
Gracious God,
Give me a sense that now is the time for Jesus to be in my life;
Give me a share in the excitement of knowing that you are working in this world;
Give me strength to walk with Jesus on his journey to the cross.
Amen.
For a simple pattern of daily prayer for morning, midday and evening, provided by URC ministers, Revds Ian Fosten and Phil Nevard, see
https://urc.org.uk/images/daily_prayer.pdf
For an imaginative prayer leaflet to use with children, see
https://urc.org.uk/images/Pamphlet_for_prayer-_trifold.pdf
Options for Worshipping at home this Sunday
Online           URC audio service (https://devotions.urc.org.uk/ )           10.00 a.m.
Radio            Radio 4          Sunday Worship                                          8.10 a.m.
Television      BBC1             Sunday Worship                                         11.00 a.m.
Songs of Praise                                           1.15 p.m.
BBC Religious broadcasting schedules for Easter 2020 can be found here
DISCLAIMER: TV and Radio schedules can change, so check the timings are correct!
Bible readings for Palm Sunday
From the Revised Common Lectionary
Psalm 118:1-2, 19-29          A psalm about entering Jerusalem in procession
Matthew 21:1-11                  Jesus enters Jerusalem: 'the whole city was in turmoil'
If you don't have a Bible at home, please let Trevor or Alison know. We will try to get one to you. Or, if you have internet, go to 
https://www.biblegateway.com/
Bible readings for Holy Week
Follow Matthew's Gospel all the way to the cross
Monday          26:14-35        A shared meal and questions about betrayal
Tuesday         26:36-56        Praying in Gethsemane and Jesus arrested
Wednesday   26:57-68        Jesus before the High Priest
Thursday       26:69-75        Peter denies knowing Jesus
Friday             27:11-54        Before Pilate, then sent to the cross
Reflection on the Readings
When Jesus  entered Jerusalem in procession on what we call Palm Sunday, Matthew tells us the city was in turmoil and 'the crowds were saying, "This is the prophet Jesus from Nazareth in Galilee'." (21:11) That was true as far as it goes. He was called Jesus ("God Saves"), he was from Nazareth, and he was a prophet (someone who reveals to people the way that God sees things in the world). Choosing to ride into Jerusalem (walking had been fine up until the last couple of miles) suggests Jesus was making another point – here comes God's appointed King. So, who do you think is coming to town here? A good man (from up North), a good teacher about what God wants, a King to be followed and obeyed, God's representative, and/or God's own self on earth?
Making and Sharing Paper Palm Crosses
'A very large crowd spread their cloaks on the road, and others cut branches from the trees and spread them on the road.' (Matthew 21:8)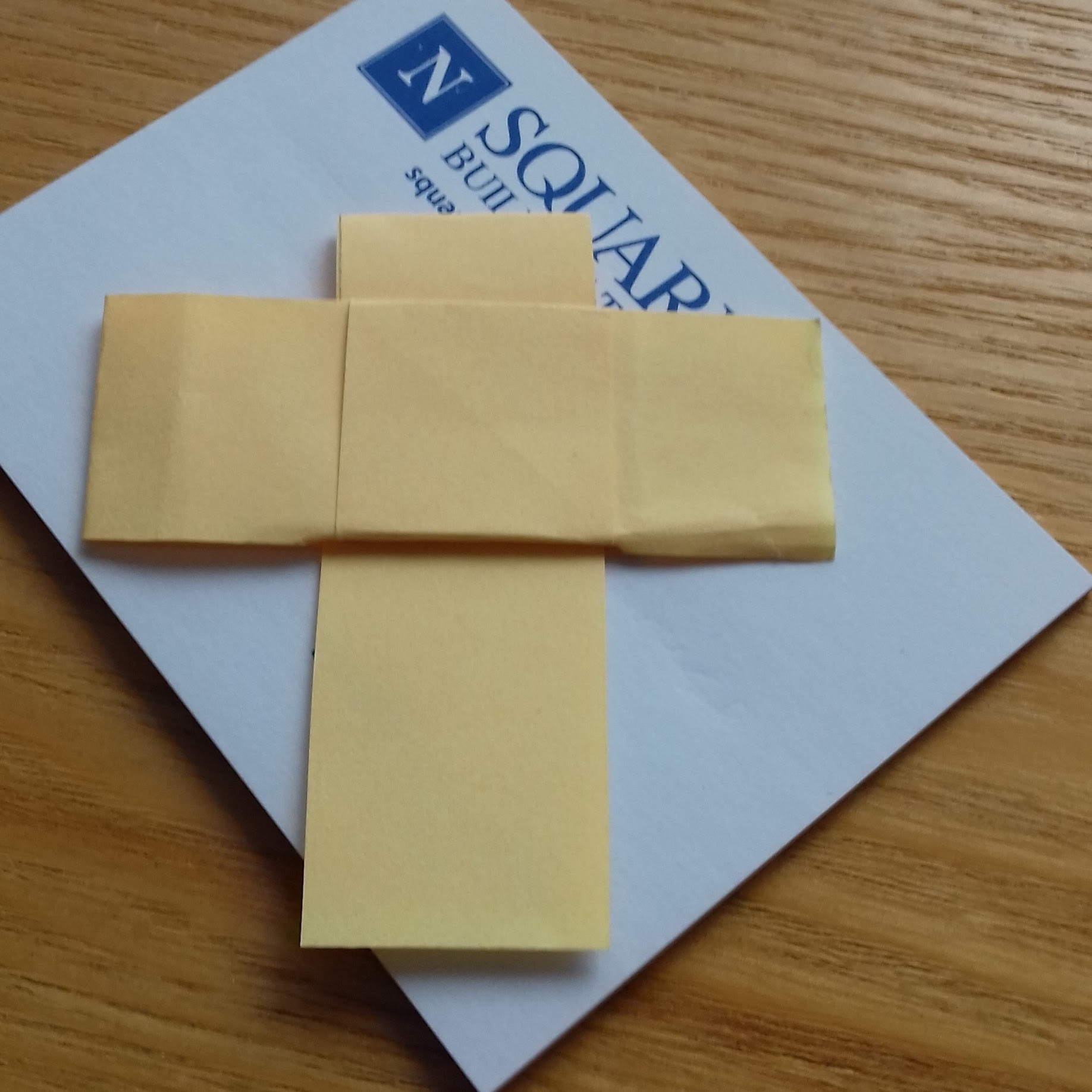 Here's our chance to make and share paper palm crosses. Follow the link for instructions on making a cross. It doesn't have to be "perfect". Even the Minister was able to make one – with a little effort! When you've made your palm cross you can stick it in the window for others to see. Also, everyone who can do so, please photograph your cross and send it to Kris Grey who will collate the pictures. They will then appear on the church website and Facebook page.
Instructions at           https://mommysnippets.com/paper-palm-crosses/
Email Kris at             pr@kimm-comms.com
A video is also available which explains how to do this.
Finance – A Thank You!
Currently, our church has no rental income and no money coming at Sunday services. So, following the request in the previous Weekly Update, a big thank you to those who normally give via the collection plate but have now switched to giving via a standing order or by cheque in the post. If you are able to do this please contact Keith, our Treasurer. Keith.stc@outlook.com or by phone on 0191 2514553.
Read Reform for free
During "lockdown" the URC magazine, Reform is available to read for free online.
Church Quiz Time!
Monday April 13th 2020 at 7.00 p.m.
We are holding St Columba's URC's first quiz by video conference. Bring your own food and drink, and gather around your digital devices, ready to answer.To register your interest and find out how to join this online gathering (it's surprisingly straightforward for most people) email Oliver Storey:
oliver.storey@stcolumbas-urc.org.uk
(Questions and answers from the 8th will appear in the subsequent edition of Weekly Update so that everyone gets a chance to enjoy the quiz.)
Keeping in Touch
We will keep in touch with each other. Elders will have a list of members and friends to contact each week, both to provide information and to ensure that people are safe and well. You can contact your designated Elder, the Minister, or Church Secretary.
Minister: Reverend Trevor Jamison                 Church Secretary: Alison Drew
minister.northshieldsurc@gmail.com               [email protected].com
0191 290 1193         07896 899538                 0191 251 9774
Copyright © 2020 St Columba's United Reformed Church, All rights reserved.
Registered Address:
St Columba's United Reformed Church
30 Northumberland Square
North Shields, Tyne and Wear NE30 1PW
United Kingdom
St Columba's United Reformed Church Charity is a registered charity in England & Wales, number 1164784.