St Columba's United Reformed Church
30 Northumberland Square | North Shields | NE30 1PW
Weekly Update #169     13th August 2023
From the Minister                           Songs of Praises, Songs of Praises
 When I lived in Edinburgh I would often walk past one end of Canaan Lane. Almost every time I did I would find myself whistling, 'Cwm Rhondda,' the stirring Welsh tune that goes with the hymn, 'Guide me O thou great Jehovah.' The final verse of William Williams' hymn reads,
When I tread the verge of Jordan,
Bid my anxious fears subside;
Death of death, and hell's destruction,
Land me safe on Canaan's side,
Songs of praises, songs of praises,
I will ever give to thee, I will ever give to thee.
There's something about the combination of words and music in hymns that enables us to marry thoughts and feelings in relationship to God and the world. Also, the things that we sing tend to stick in our memories. Maybe that's why the TV programme, 'Songs of Praise' remains popular, and why church congregations like a 'Songs of Praise' style services. You can choose a hymn for our Songs of Praise service, which is coming soon on August 27th, but you need to get your choice to John or Alison Drew by the 15th of August. So, don't miss your chance – contact them today!
Trevor            
Image by Clker-Free-Vector-Images from Pixabay
A bonus hymn:
'Guide me, O thou great Jehovah, as sung on 'Songs of Praise' in 2016
To Listen Click Here
Minister away later this month  
Trevor Jamison will be on holiday from 25th August, returning on 18th September. If you have a concern which is both significant and pressing, please contact the Church Secretary, Alison Drew in the first instance.
Prayer
God of majesty, whom saints and angels delight to worship in heaven: be with your servants who make music for your people, that with joy we on earth may glimpse your beauty; and bring us to the fulfilment of that hope of perfection which will be ours as we stand before your unveiled glory, through Jesus Christ our Lord,
Amen
(Prayer from Calvin Institute of Christian Worship)
Worship   Sunday 13th August
10.30 a.m. Communion service led by Trevor Jamison, continuing the story of Joseph – Joseph Reveals His Identity and Forgives His Brothers (Genesis 45-46)
6.00 p.m. at St John's, Percy Main – the second of the popular August Churches Together in North Shields joint services.
Livestreamed Worship from Saint Columba's
To watch the morning service live, catch up with it later in the week, or view previous services, click here
Sunday 20th August
10.30 a.m. service led by Trevor Jamison, concluding the story of Joseph – Like Father, Like Son – Joseph Tries to Play at Favourites           (Genesis 47-50)
Also – We receive our toilet twinning certificates this Sunday. Then, at the conclusion of the service, all are invited to process around all five church toilets to hang the certificates!
4.00 p.m. at Christchurch – the third of the August Churches Together in North Shields joint services – marking the work of the Fisherman's Mission
Bible readings for this week
Genesis 45-46          Joseph reveals his identity and all the family come to Egypt
Psalm 105:1-6, 16-25          God's acts in history, including in the life of Joseph
1 Corinthians 13:8-13          Now we see God dimly, but later we will see face to face
You can read the Bible passages online at https://www.biblegateway.com/
Reflection on the Readings
When Joseph revealed his identity to his brothers they were speechless, 'so dismayed were they at his presence,' (45:3) That's not surprising. They were remembering how they had treated Joseph when he was in their power, and now there they were, in his hands. Joseph reassures them, however, that he does not hold anything against them. In fact, he says God, not they, was responsible for what had happened to him: 'do not be distressed … for God sent me before you to preserve life … so it was not you who sent me here but God.' (45:5, 8) Joseph claims to see what many of us find difficult to perceive – God at work in the world in our own life events. Perhaps Joseph is able to do so because he is looking back on events which he has had time to ponder. It may be that we see God more clearly in hindsight. The Apostle Paul acknowledged that human limitations prevent us from seeing God clearly in the here and now: 'for now we see in a mirror dimly,' (1 Corinthians 13:12a), but also points forward with hope to a future when 'we will see face to face … then I will know fully, even as I have been fully known.' (13:12b)
A hymn that responds to the readings
The hymn 'Love divine, all loves excelling' concludes with a verse where all stand before God face to face, 'lost in wonder, love and praise.'  Here, it is sung by One Voice Choir Ghana
To Listen Click Here
News and Notices
Sunday, August 27th – 10.30 a.m. service of favourite hymns – make your choice known now! Do you have a favourite hymn, and would you be prepared to say why it is special to you? Contact John and Alison Drew, who are coordinating this 'songs of praise' style service, by 15th August with your choice.
Image by Clker-Free-Vector-Images from Pixabay
Sunday September 3rd – Messy Church Goes Wild With A Picnic in the Park!
Saint Columba's Messy Church is going outdoors on Sunday September 3rd, 3.00 p.m. – 5.00 p.m., picnicking in Northumberland Square.
Put the date in your diary to join in the fun, and encourage friends, family and others, of all ages to come along.
If possible, please let Claire or another member of the Messy Church team know you are coming.
Happening This Saturday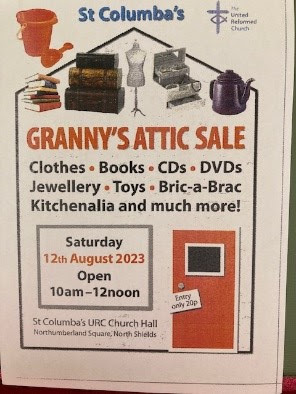 Leading your Church Into Growth (LYCIG) – opportunity to attend conference
The five Northerly Synods of the URC are banding together to offer a residential conference for ministers and church leaders, featuring this highly effective course. https://www.leadingyourchurchintogrowth.org.uk/ It takes place at Barton Manor Spa Hotel in Preston, 28-30 November 2023. Northern Synod has ten free places to offer. The cost of the course and accommodation is met by the URC. If you are interested in going to the conference or would like more information please contact Trevor Jamison.
Vote on the name for new North Shields square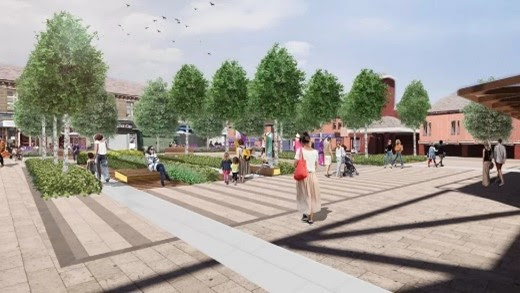 A new square is being created in North Shields, where the new transport hub is approaching completion. North Tyneside Council has drawn up a shortlist of four significant figures after whom the square might be named, and is inviting residents to take part in a vote. You can find out about the four and cast your vote HERE
Image: North Tyneside Council [The sun is shining, the day is warm, and the people are in shirtsleeves –  just like it is every day in North Shields! Editor]
Weekly Update now on its Summer Holiday
Weekly Update is taking its summer holiday. The next issue will be for Sunday 10th September. Please send items for that issue to Andrew Atkinson by Tuesday 5th September.
Image: Image by Clker-Free-Vector-Images from Pixabay
Keeping in Touch
You can contact your Elder, the Minister, or Church Secretary.
Minister: The Reverend Dr Trevor Jamison     Church Secretary: Alison Drew
minister.northshieldsurc@gmail.com               [email protected]
0191 290 1193         07896 899538                 0191 251 9774
Copyright © 2023 St Columba's United Reformed Church, All rights reserved.
Registered Address:
St Columba's United Reformed Church
30 Northumberland Square
North Shields, Tyne and Wear NE30 1PW
United Kingdom
St Columba's United Reformed Church Charity is a registered charity in England & Wales, number 1164784.