St Columba's United Reformed Church
30 Northumberland Square | North Shields | NE30 1PW
Weekly Update #168     6th August 2023
From the Minister                    To See Ourselves …
What does the United Reformed Church look like in 2023? Recently the URC commissioned the Christian thinktank and research organisation, Theos, to take an in-depth look at our church life, including working with URC congregations. The report highlights examples of flourishing in the URC, especially in the community outreach of many local congregations. It also identifies barriers to flourishing, both at local and denominational level. These include organisational structures designed for a previous era, and a reluctance to talk with others about the reasons why we do the good things that we do. I wonder what aspects of life at Saint Columba's you would see as flourishing – I know that there are many. What are the barriers we face to greater flourishing? What are the resources available to help us achieve that? These are matters worth discussing.
Trevor
Image: United Reformed Church, 2023 © Claire Kendall
You can read the report here.
Paper copies are also available. If you would like one, please contact Trevor.
Prayer
God our Shepherd, give to your Church a new vision and a new charity, new wisdom and fresh understanding, the revival of her brightness and the renewal of her unity; that the eternal message of your Son may be hailed as the good news of this age; through him who makes all things new, Jesus Christ our Lord. Amen.
Percy Dearmer, 1867-1936 (altered)
Worship    Sunday 6th August
10.30 a.m. service at church, led by Trevor Jamison, continuing the story of Joseph – Joseph Torments his Brothers but Retribution has its Limits (Genesis 42-44).
6.00 p.m. at Church of the Holy Saviour, Tynemouth – the first of the August Churches Together in North Shields joint services – Trevor Jamison is the preacher.
Livestreamed Worship from Saint Columba's
To watch the morning service live, catch up with it later in the week, or view previous services, click here
Sunday 13th August
10.30 a.m. Communion service led by Trevor Jamison, continuing the story of Joseph – Joseph Reveals his Identity and Forgives his Brothers (Genesis 45-46).
6.00 p.m. at St John's, Percy Main – the second of the August Churches Together in North Shields joint services.
Bible readings for this week
Genesis 42-44          Joseph's brothers come looking for food – how will he respond?
Psalm 105:1-6, 16-25          God's acts in history, including in the life of Joseph
Matthew 18:21-22    'Lord, how many times should I forgive my brother or sister?'
You can read the Bible passages online at https://www.biblegateway.com/
Reflection on the Readings
Why do people who have been treated badly then do the same to others? It's understandable that Joseph torments his brothers. After all that what they did to him when he was in in their power. In Genesis 42-44 one moment he is providing them with a feast and promises of food to take home, the next he is framing them for theft, giving them a taste of prison, threatening them, and making impossible demands. If you were Joseph, do you think you might behave in a similar way? What's more puzzling, is when people who have been mistreated then mistreat others who had nothing to do with their original suffering. It's notable, for example that many of those who were abused as children then go on to abuse other children. Joseph's story invites us to recognise how the bad things that happen to us affect the way we then treat others, and avoid repeating bad behaviour. In this context, Jesus's answer to Peter about forgiveness in Matthew 18 makes a lot of sense, not only for the others but also for ourselves.
Image: 'Joseph Sold into Slavery by His Brothers' by Károly Ferenczy,1862-1917. Wikimedia Commons.
A hymn that responds to the readings
Give to Our God Immortal Praise: Whatever Joseph will do with his brothers, God's ways are those of mercy and truth.
And again, in a different style.
News and Notices
Roof and Stonework Project Commences!
The scaffolding began to go up on Monday 31st July for major work on the façade and roof of our church building. With the scaffolding in place, access to the church and church halls will be maintained. Apologies, though to Café 2-21 regulars, for the short notice that the café would be shut on 1st August. As scaffolding erection was still going on, it was not safe to use the hall entrance, and access via steep steps at the Norfolk Street entrance would have been problematic. Normal service at Café 2-21 resumes on Tuesday 8th August. It is hoped that the building project will be completed in late September / early October when the scaffolding will be removed.
Monday 7th August and Thursday 10th August – discussion groups
Join with others, at Saint Columba's, North Shields to discuss the biblical story of Joseph, son of Jacob, and what it says to us about some of today's big questions.
Monday via Zoom at 7.15 p.m. Click here to join.
Thursday in-person discussion group at church at 7.15 p.m.
Saturday August 12th – Granny's Attic Sale – request for donations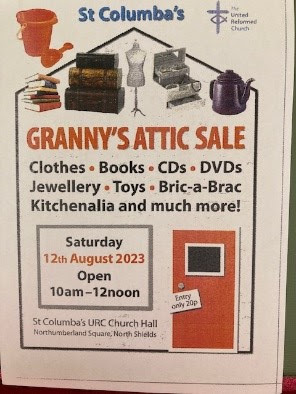 Our next Granny's Attic Sale takes place on Saturday 12th August, 10.00 a.m. – 12.00 p.m. Come along and catch a bargain!
So it's time to clear out your wardrobes and your drawers, to provide items for the sale. Please deliver your donations to the church at 2.00 p.m. on Friday 11th, or make an arrangement with Norma to do so at another time.
Sunday 27th August – 10.30 a.m. service of favourite hymns – make your choice known now!
Do you have a favourite hymn, and would you be prepared to say why it is special to you? Contact John and Alison Drew, who are coordinating this 'songs of praise' style service, by 15th August to let them know about your choice.
Operation Christmas Child – An advance notice
We will be filling shoeboxes again this year, with our Shoebox Service at church on 19th November. The shoeboxes are available at any time from now for those who want to start filling them with items. Please contact Shirley to obtain a shoebox and feel free to invite any family and friends to join in.
Update going on its Summer Holiday soon
Next week's Update will be edited by Trevor Jamison. Please have any items for that with him Tuesday 8th August. Then Weekly Update is taking its summer holiday. The following issue will be for Sunday 10th September. Please send items for that issue to Andrew Atkinson by Tuesday 5th September.
Keeping in Touch
You can contact your Elder, the Minister, or Church Secretary.
Minister: The Reverend Dr Trevor Jamison     Church Secretary: Alison Drew
minister.northshieldsurc@gmail.com               [email protected]
0191 290 1193         07896 899538                 0191 251 9774
Copyright © 2023 St Columba's United Reformed Church, All rights reserved.
Registered Address:
St Columba's United Reformed Church
30 Northumberland Square
North Shields, Tyne and Wear NE30 1PW
United Kingdom
St Columba's United Reformed Church Charity is a registered charity in England & Wales, number 1164784.