St Columba's United Reformed Church
30 Northumberland Square | North Shields | NE30 1PW
Weekly Update #164      9th July 2023
Hello again everyone, from John.
Writing this on Monday morning, the main news seems to be about the riots in France, followed by rail strikes and energy prices. I find it difficult to condone the rioting yet I understand how people become so frustrated because they are not listened to or taken care of in society. How close does this country come to mass riots over the actions of those in government? We have seen it locally within living memory. The waves of strike action we have seen over recent, and not so recent, months is a sign of the frustration felt by sectors of our society at this present time; the concern of energy prices is caused partially by international events but also by the financial dealings of our privatized utilities, how many of us are still reaping rewards from those shares?
I have repeated the picture from 3 weeks ago as I feel it is important that we remember this is God's world and we are in His hands. But do we see His hands at work around us?
The French people are turning against the rioters, and the family of the murdered lad appealed for calm and there has been calm.
The energy prices are encouraging us to use less and seek other fuels, better for the environment.
Strike situation? I don't know about that.
We cannot always see God's hand in action, that is where trust, faith and obedience take over.
That is not always easy for mankind. But we can pray for resolutions and His will being done.
John
Prayer
Father God, we live in this world, your creation, and wonder at what goes on around us. We see your hand at work but also see the Devil working against you. We pray that your will be done, that your kingdom will reign and bring peace and harmony throughout the Earth. Amen.
WORSHIP SERVICES THIS SUNDAY – Sunday 9th July
10.30am at church          The Revd Dr Trevor Jamison will be leading us, including Holy Communion and bringing Gordon Adam into membership.
Livestreamed Worship from Saint Columba's
To watch the morning service live, catch up with it later in the week, or view previous services, click here
NEXT WEEK – Sunday 16th July
10.30 a.m. at church          The Revd Dr Trevor Jamison will again lead our worship.  (See notices below)
Bible readings for this week
  (from the Revised Common Lectionary)
Genesis 24: 34-38, 42-49, 58-67. How God guided the search for Rebekah to be Isaac's wife.
Psalm 145 : 10-17. All He has created praises God for He is faithful, loving and righteous.
Romans 6 : 12-23. Do not be slaves to sin through the body but be obedient in righteousness through God's grace.
St. Matthew 11: 16-19,25-30. Christ despairs of the people, gives praise to His Father and promises rest for the weary.
You can read the Bible passages online at https://www.biblegateway.com/
Reflection on the Readings
The reading from Genesis tells us that God is in control and will guide our actions throughout our lives. The Psalmist expects all Creation to praise God because of His faithfulness, righteousness and love. In the Gospel we are told that Christ despaired of that generation but continued to give praise to His Father despite that and promises rest for the weary. Paul tells the Roman church not to let sin rule their lives through the mortal body but to be obedient in righteousness through God's grace. I do sometimes wonder how most Christians stand on all this. Are we excited at the prospect of God leading our lives, do we seek His guidance in all we do, not just the major steps like finding a wife/husband? Do we recognize God's faithfulness, righteousness and love, do we understand what those words mean and accept His gifts? It is easy to be a slave to sin through the actions and mind of the body, do we humbly accept God's grace and turn away from that life? With all that we hear about in this country and the world today, it is easy to despair of what goes on around us. We become weary of it all don't we, so it is good to hear that Christ offers us His rest which will enable us to praise our Creator and even receive His Grace and Love. There are so many questions in this world, it is good to have some answers.
Image: Too many questions by Stepan Popov.
News and Notices
Strawberry Fayre – 8th July
Gifts sought and cakes to be baked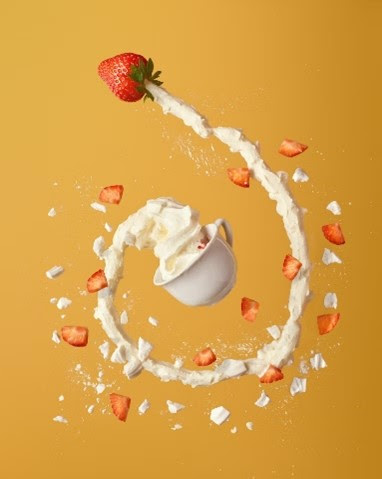 After a three-year gap, the St Columba's Strawberry Fayre returns on Saturday 8th July! Gifts are being sought for the tombola. Please give these to Evelyn or Norma.
Members of HANDS are baking for the cake stall, but it's not exclusive and contributions form all bakers will be accepted!
Image: Photo by Tangerine Newt on Unsplash.
Ordination and Induction of Louise Sanders – 29th July
2.00 p.m. at St Andrew's URC, Eastfield Avenue, Monkseaton.
Please ensure that you sign up for this on the list in the hall if you intend to go, even if you don't plan to stay for refreshments.  St Andrew's need to know for both seating and catering arrangements by next weekend, so this is your last chance.
Sunday 16th July – Fundraising effort for "Toilet Twinning"
Q. How many sets of toilets does Saint Columba's possess?
A. Five!
Toilet Twinning is a charity which since 2010 has been funding global water and sanitation programmes run by the Christian charity Tearfund. They invite us to "twin" our toilets and so help to fund communities elsewhere in the world to build their own basic toilet, access clean water and learn about hygiene – a vital combination that saves lives.
At our Church Meeting on 20th June we were invited to toilet-twin through this scheme, and were so enthused we decided to twin all five church toilets, through donating sixty pounds per toilet: £300 to be raised!
So, at our morning service on Sunday 16th July, we will hear and pray about the work and hold a collection for this work. Please give as you are able and feel appropriate.
Image: © Tearfund, toilettwinning.org
A series on Joseph, which we will be following in worship, and in discussion groups during July and August.
Next Update – Sunday 16th July
Trevor Jamison will edit the next Update.  To get your information in both the online and printed editions, please have it with him by Tuesday 11th July.
Keeping in Touch
You can contact your Elder, the Minister, or Church Secretary.
Minister: The Reverend Dr Trevor Jamison     Church Secretary: Alison Drew
minister.northshieldsurc@gmail.com               [email protected]
0191 290 1193         07896 899538                 0191 251 9774
Copyright © 2023 St Columba's United Reformed Church, All rights reserved.
Registered Address:
St Columba's United Reformed Church
30 Northumberland Square
North Shields, Tyne and Wear NE30 1PW
United Kingdom
St Columba's United Reformed Church Charity is a registered charity in England & Wales, number 1164784.