St Columba's United Reformed Church
30 Northumberland Square | North Shields | NE30 1PW
Weekly Update #14: Sunday 21st June 2020
From the Minister – Private Prayer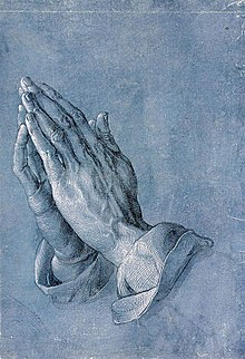 So, the UK government has announced that churches may open for 'private prayer' in England. Dropping into church in order to say a prayer has not been a big part of our Reformed tradition. In this we are closer to Muslims than to some Christian traditions – our places of worship are where we gather for communal prayer. That's not to criticise others who have a different tradition, it's just a reality. Of course, your solitary prayer, silent or uttered aloud, whether in your home, your workplace, the street, or a church building, is never truly a private prayer. God is always there with you when you pray it, which is good news.
Trevor
Image: Praying Hands by Albrecht Durer (1471-1528)
Where would we be without… Technical Support?
It would be impossible to do all the things we are doing now – Weekly Updates, online meetings and worship – without some great technical support. So, much thanks to our Technical Team members at this time, and a special mention for Oliver Storey, who, among other things, makes this publication so readable and viewable.
Trevor
Back to Church?
The Church's Elders, along with members of our Facilities Management and Finance and Property teams, are exploring what's necessary to put in place for people to access the church building, for prayer, for worship, and for other activities. This will take time. To take just one example, relevant cleaning materials and protective equipment ordered now would have a projected delivery date in late August. We will keep you updated on progress.
Pray
Gracious God,
Thank you that whenever and wherever I pray,
I am not alone, for you are with me.
Encourage me to share with you my deepest thoughts and feelings,
And help me to remember others in my prayers as well.
Amen.
Music for difficult times
An opportunity to listen to three pieces of music, two specifically written for this time of pandemic, one a heartfelt call to God in help in time of distress:
The prayerful, powerful Praise Song for the Pandemic, written and read by Christine Valters Paintner from Abbey of the Arts. with music by Giants and Pilgrims, references Jesus's beatitudes for praise, blessing and thanksgiving for the world and its people at this time. Click here to listen.
Save me, O God is Marty Haugen's version of Psalm 69. Click here to listen.
We Will Meet When the Danger is Over, written by John Bell, sung by Alison Adam, accompanied of Ian McLarty, of the Iona Community's Wild Goose Resource Group, looks forward with hope  to what we might be when times have changed. Click here to listen.
Options for Worshipping at home this Sunday
Online           URC audio service (
https://devotions.urc.org.uk/
 )           10.00 a.m.
Radio            Radio 4          Sunday Worship                                          8.10 a.m.
Television      BBC1             Sunday Worship                                         11.45 a.m.
Songs of Praise                                           1.15 p.m.
DISCLAIMER: TV and Radio schedules can change, so check the timings are correct!
Bible readings for Sunday
From the Revised Common Lectionary
Genesis 21:8-21                   
Family strife and a mistreated slave
Psalm 86:1-10, 16-17           A cry of distress to God for rescue
Romans 6:1
b
-11                   United with Christ in his death 
AND
 his resurrection
Matthew 10:24-39                 Priorities in being a follower of Jesus
You can read the Bible passages online at https://www.biblegateway.com/
Here is a sermon by Trevor Jamison, based on the Genesis and Matthew readings. 
Reflection on the Readings
My guess is most of us don't think of our baptisms as occasions when we were buried with Christ 'into his death' (Romans 6:4a), which is a pity. If desire to avoid talk about (our) death stops us from reading beyond that point, then we miss the whole good-news picture: '… so that just as Christ was raised from the dead … we too might walk in newness of life.' (Romans 6:4b) In Christ, God knows everything about life, death, and life beyond death, and is offering us that whole experience.
For further reflections and prayers relating to these readings, click here.
St Columba's Coffee and Conversation – Saturdays at
10.00 a.m.
Join the conversation on the day by clicking here.
Meeting ID: 862 0386 1936, Password: 544505
To join by telephone, dial this local rate number: 0203 051 2874
For information or help, contact Mathew Hall: 07792782647 or
mathew.hall@stcolumbas-urc.org.uk.
Online Prayer Gathering on Sundays at 6.30 p.m.
A thirty-minute opportunity for prayer together and hand it all to God, including learning a shared signed-response to some prayers.
For further information, contact Charlene Clark charleneclark@hotmail.co.uk
To join, when the time comes click here.
Password: 637945
Columba Conversations – from Thursday 25th June
at 7.15 p.m.
Second in a series of six weekly, relaxed conversations, led by Trevor Jamison, to (re)explore things we're taught as children and might believe as adults. This week: We need God in Our Lives.
Meetings will be one hour long. To join the meeting, click on the link or telephone in.
Meeting ID: 847 5337 8409       Password: 923409       Dial  0131 460 1196
If you can't join in, don't hesitate to contact Trevor to request a copy of the handout relating to the meeting
Keeping in Touch
We will keep in touch with each other. Elders will have a list of members and friends to contact each week, both to provide information and to ensure that people are safe and well. You can contact your designated Elder, the Minister, or Church Secretary.
Minister: Reverend Trevor Jamison                 Church Secretary: Alison Drew
minister.northshieldsurc@gmail.com               [email protected].com
0191 290 1193         07896 899538                 0191 251 9774
Copyright © 2020 St Columba's United Reformed Church, All rights reserved.
Registered Address:
St Columba's United Reformed Church
30 Northumberland Square
North Shields, Tyne and Wear NE30 1PW
United Kingdom
St Columba's United Reformed Church Charity is a registered charity in England & Wales, number 1164784.