St Columba's United Reformed Church
30 Northumberland Square | North Shields | NE30 1PW
Weekly Update #139
15th January, 2023
From the Minister                Looking to the Future
It's still early in the year, so I'm set upon looking to the future, and I have three things on my mind.
First, looking three years ahead, Louise Sanders has been called to be the Minister at St Andrew's URC, Monkseaton, from later this year, then becoming the minister at St Columba's also in about three years' time, when I am due to retire. See below for a report on that.
Second, more immediately, someone us will be doing work on the details of a bid to have a Synod-funded pioneer worker at St Columba's, devoting twenty hours per week to help us reach out more effectively to children, young people and families in North Shields around faith issues.
Third, as a church we have, by and large, come out of Covid, so opportunities open up to persuade others to join with as part of a Christian church congregation.
I'm sure there are and will be other things but those are the three at the front of my mind, and I would like to keep them there. What do you think?
Trevor
Image by Wokandapix from Pixabay
Worship Services
Sunday 15th January
10.30 a.m. at church
          A communion service led by Trevor Jamison, including hearing about the work of North East Young Dads and Lads, and Pearey House Centre for Visually Impaired, both receiving donations from collections at St Columba's during December.
Sunday 22nd January
10.30 a.m. at church          A service led by Dr Ann Sinclair, member at St Andrew's, Monkseaton, and URC Northern Synod Lay Preaching Commissioner.
Bible readings for this week
         Baptism of Jesus
Isaiah 49: 1-7             God is not just for one nation, but for all nations
Psalm 40: 1-11           A cry for God's help in the midst of suffering and difficulty
1 Corinthians 1: 1-9   Paul starts a new letter, giving thanks to God for its recipients
John 1: 29-42            John the Baptist directs two of his disciples towards Jesus
You can read the Bible passages online at https://www.biblegateway.com/
Reflection on the Readings – Jesus and a Pub Sign
John the Baptist, seeing Jesus, declared, 'Here is the Lamb of God who takes away the sin of the world.' (John 1:29)   There are lots of pubs called, 'The Lamb and Flag.' The one in Oxford is owned by the adjacent St John's College, with profits going to pay for student scholarships. C S Lewis, J R R Tolkien, 'Inspector Morse' (and Trevor Jamison) have all eaten and drunk there.
John the Baptist saw Jesus as one whose sacrificial death would save God's people by taking away their sin. John the Divine, who wrote the Book of Revelation, pictured this slaughtered Lamb as now standing alive and victorious – hence the association with the flag. (Rev. 5: 6-14)  Away from pubs, in the worship of the church, John the Baptist's declaration about Jesus is the inspiration for the 'Agnes Dei', a short hymn, versions of which often sung as part of Holy Communion (Rejoice and Sing, 14, 15, 16, for example):
Lamb of God, who takes away the sins of the world, have mercy on us.
Lamb of God, who takes away the sins of the world, have mercy on us.
Lamb of God, who takes away the sins of the world, grant us peace.
Image: Lamb & Flag pub sign, Oxford, by Flickr userRobertderivative work: Rondador, CC BY-SA 2.0, via Wikimedia Commons
A hymn that responds to the readings
'Lamb of God, you take away the sin of the world' – a version of the Agnes Dei, from the Taizé Community tradition
To listen, click here.
News and Notices
Future Minister for Saint Columba's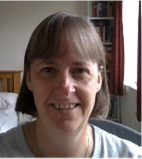 During a successful weekend, which was well attended and enjoyed by all, Louise Sanders 'preached with a view' at St Andrew's URC, Monkseaton, on Sunday 8th January. The members of St Columba's were also present at the service, and afterwards there was a working lunch with questions and answers.
St Columba' s members did not have a vote as such, as we are not in vacancy, but we were allowed to have a show of hands. (As previously agreed St Andrew's would not go ahead with the call to Louise if the members of St Columba's were not happy.)
St Columba's vote was a 100% call to Louise to become our minister jointly with St Andrew's when Trevor Jamison retires. Now it was the turn of St Andrew's members to vote by ballot papers. Sixty-one Members voted. One paper had nothing written on and sixty papers voted for Louise, so again 100% call.
The Interim Moderator, Andrew Graydon, then contacted Louise and gave her the good news. Louise has accepted the call and we look forward to her ordination and induction to the Ministry of Word & Sacraments in July, when Louise will have finished her college training.
When Trevor retires Louise will be inducted into the joint pastorate of St Andrew's and St Columba's.
Church magazine articles deadline

Your items for the "The Square" magazine should be with Catherine by Saturday 28th January, please.
Café 2 21 – re-opening date
Cafe 2.21 will re-open on 17th January.
People Meeting Jesus: Six Bible Explorations in John's Gospel
Mondays from 16th January on Zoom and Thursdays from 19th January in-person
What holds people back from meeting with Jesus? Alternatively, what encourages them to do so? And when they meet with Jesus, what results? Anyone from any church (or none) is invited to take part.
To find out more details, please click here.
To join via Zoom, click here.
Church Meeting – Tuesday 24th January at 7.15 p.m. – on Zoom
Church Meeting is due to take place on Tuesday 24th January at 7.15 p.m. At our previous meeting we decided that we would have this winter time evening meeting via Zoom. Papers for the meeting will come with next week's Update.
To join the Zoom meeting, please click here.
Chutney and Jams
In 2022 the jam and chutney making team of John and Lynn raised £230 for the 'Paediatric Hospital Social Workers Fund' at the RVI Hospital. Thank you to all who contributed towards achieving this total.
Next Update – Sunday 22nd January
Andrew Atkinson will edit the next Update. To get your information in the 22nd January edition please have it with him by Tuesday 17th January.
Keeping in Touch
You can contact your Elder, the Minister, or Church Secretary.
Minister: The Reverend Dr Trevor Jamison     Church Secretary: Alison Drew
minister.northshieldsurc@gmail.com               [email protected]
0191 290 1193         07896 899538                 0191 251 9774
Copyright © 2023 St Columba's United Reformed Church, All rights reserved.
Registered Address:
St Columba's United Reformed Church
30 Northumberland Square
North Shields, Tyne and Wear NE30 1PW
United Kingdom
St Columba's United Reformed Church Charity is a registered charity in England & Wales, number 1164784.