St Columba's United Reformed Church
30 Northumberland Square | North Shields | NE30 1PW
Weekly Update #134
December 4th 2022 – Advent 2
From the Minister           Wolves Shall Live With Lambs?
It's the second Sunday of Advent, and after following the theme of 'Promise' in our worship last week, this week's theme is about 'prophets.' Biblical prophets specialise in giving people a picture of the world as God sees it and wills it. Sometimes (though only sometimes), that includes looking to God's future for the world. The Old Testament prophet Isaiah offered a peculiar picture of the future – one where wolves and lambs, leopards and kids, lions and calves all live happily together. This appears in chapter eleven of that biblical book. That's nearly as strange a concept as human beings all getting along, or other species being able to get along with humankind (in lands where humans come to live lots of other species tend become extinct). In Isaiah's vision this great reconciliation is brought about by a child: 'and a little child shall lead them.' (11:6)  As we approach Christmas the thought of a little child bringing peace between those thought to be irreconcilable, puts us in mind of a certain event in Bethlehem, a long time ago.
Trevor
          
Image by John August Swanson © Estate of John August Swanson – permission granted for non-commercial use.
Prayer
Gracious God, by whose tender compassion the Christ child comes to us, open our hearts that we may be reconciled with you, with other people, and with your creation here on earth. Amen.            (Inspired by a prayer in 'Uniting in Worship' 1985)
WORSHIP SERVICES THIS SUNDAY 
Sunday 4th December
10.30 a.m.
 'God's Prophets' – a service for the second Sunday in Advent, led by the Revd Jack Macadam, on the message of God's prophets concerning the Messiah
(Advent candles being lit by members of the congregation's Social Events Team)
To watch this service live, catch up with it later in the week, or view previous services,
Click Here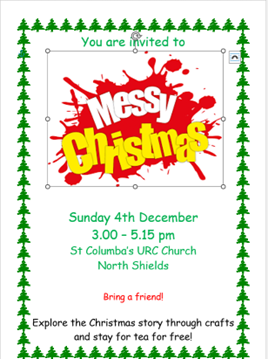 3.00 p.m.
Messy Christmas Church
Participative worship for all generations, both individuals and families, led by a team from Saint Columba's
Bring a friend along!
6.30 p.m. – Zoom communion service, led by Trevor Jamison, on the theme of welcoming others because Christ has welcomed us (Romans 15:7) and featuring music appropriate for Advent.
To join on Zoom click here
Worship services next Sunday- December 11th
10.30 a.m. 'John the Baptist' – a communion service for the third Sunday in Advent, led by the Revd Dr Trevor Jamison, focusing on John the Baptist, and his ministry of preparing the way for the coming of the Messiah.
Bible readings for this week
Bible readings for this week     
Isaiah 11:1-10         Isaiah's vision of one who will bring peace to the world
Psalm 72:1-7, 18-19 Seeking a ruler who will bring, justice, prosperity, and peace
Romans 15:4-13      We welcome each other because Christ has welcomed us
Matthew 3:1-12       'One who is more powerful than I is coming after me'
You can read the Bible passages online at https://www.biblegateway.com/
Reflection on the Readings
Both the Isaiah and the Romans readings refer to the 'root of Jesse' (11:10; 15:12). I expect that Paul, who wrote Romans, also read Isaiah and got the idea from there. In Matthew's Gospel, John the Baptist does not mention the root of Jesse by name, but when he warns Israelites that 'the axe is lying at the root of the trees' and will be used if they are not fruitful (3:10) lots of his hearers might have thought of the 'stump of Jesse' tree in Isaiah 11:10. So what's a Jesse tree, either as a stump or a root? It's a family tree, with branches rising from Jesse of Bethlehem, the father of King David. Hope for a world transformed, the Bible passages suggest, comes from a relative of Jesse (and David), one who is associated with Bethlehem.
A hymn that responds to the readings
Lo, How a Rose Ere Blooming A fifteenth century German hymn, which references the 'Jesse tree' in Isaiah 11 (In the hymn book Rejoice and Sing (175) as ' 'Lo, how a rose is growing')
To Listen, Click Here
News and Notices
Future Ministry at Saint Columba's
In November 2021 we agreed that when Trevor Jamison retires (in three years' time) Saint Columba's, North Shields, and Saint Andrew's URC, Monkseaton will then share one minister. As part of that, our congregation has a significant say in the process of calling the next minister at Saint Andrew's.
A candidate has met with the vacancy teams from St Andrew's Monkseaton and St Columba's, and an invitation to 'preach with a view' to becoming minister at Saint Andrew's has been issued. They have accepted that invitation, and this will happen on 7th/8th January 2023
Saturday 7th January will be a social evening when we will have a chance to meet them and ask questions.
On Sunday 8th January there will be no morning service at St Columba's, but we will join with St Andrew's at 11.00a.m. to hear them preach. This will be followed by a light lunch and a church meeting.
Further details about the weekend will follow soon.
Compassion Urgent Food Crisis Appeal – opportunity to donate this Sunday
For those wishing to make a £1.00 donation to this appeal, a donation box will be available in the Church entrance this Sunday morning.
Advent Conversations

Advent conversation groups continue this week, looking at the booklet, Sharing the Christmas Story.
Tuesdays at 1.15 p.m. at church,
Thursdays at 7.15 p.m. on Zoom
Christmas Hamper
HANDS is organising a Christmas hamper of tinned and dried goods and toiletries for the People's Kitchen again this year. A box will be in the church hall until Sunday 4th December, and all contributions will be gratefully appreciated.
Church Christmas Post Box Open for Business
The Church Christmas Post Box opens for business this Sunday. Post your cards to fellow church members and collect any that have been sent to you. The box closes and distribution takes place on Sunday 18th December. (Not the 11th, as reported in last week's Update)
Image by PublicDomainPictures from Pixabay
Stewards Still Sought for Christmas Market Weekend – 10th/11th December
More volunteers are needed to take a turn at greeting visitors at the front doors and within the church on the Saturday and Sunday when the Christmas Market is operating in Northumberland Square. Please sign up on the list in the church hall or contact Norma.
Report of Church Meeting held on Sunday 27th November
Church Meeting followed the morning service on 27th November. At the meeting, for our Christmas Eve collection, we decided to support the North East Young Dads and Lads Project https://www.neydl.uk/ which helps young men (under 25) to play an active, meaningful role in the lives of their children. Also, we agreed to explore seriously having a Synod-resourced pioneer worker at Saint Columba's, giving up to twenty hours per week, making faith links with children and families in North Shields. In addition, we decided to have the next Church Meeting (Tuesday 24th January at 7.15 p.m.) on Zoom. (The minutes of the meeting will appear with a future edition of the Update.)
Next Update – Sunday December 11th
Trevor Jamison will edit the next Update. To get your information in both the online and printed editions please have it with him by Tuesday December 6th
Keeping in Touch
You can contact your Elder, the Minister, or Church Secretary.
Minister: The Reverend Dr Trevor Jamison     Church Secretary: Alison Drew
minister.northshieldsurc@gmail.com               [email protected]
0191 290 1193         07896 899538                 0191 251 9774
Copyright © 2022 St Columba's United Reformed Church, All rights reserved.
Registered Address:
St Columba's United Reformed Church
30 Northumberland Square
North Shields, Tyne and Wear NE30 1PW
United Kingdom
St Columba's United Reformed Church Charity is a registered charity in England & Wales, number 1164784.