St Columba's United Reformed Church
30 Northumberland Square | North Shields | NE30 1PW
Weekly Update #115
3rd July 2022
From the Minister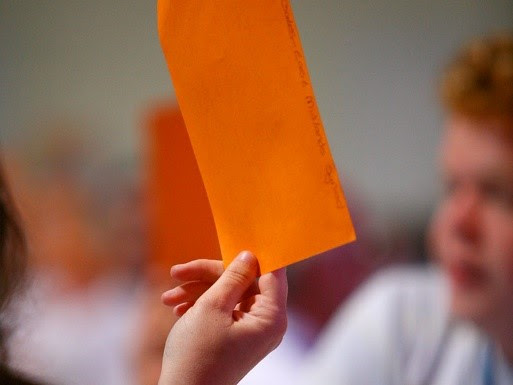 Images:
United Reformed Church
Next week I am due to be a representative at the United Reformed Church's General Assembly, which is meeting together from the 8th to the 12th of July. When Christians first started meeting together the name given to their gatherings was the Greek word, 'ekklesia'. From that, we today get the word 'ecclesiastical', meaning 'to do with churches.' Back then, though, the word, 'ekklesia' was not just used in connection with religion. It was simply the word for an 'assembly' of people.
So today, in denominations like the United Reformed Church, 'General Assembly' is another way of saying 'General Church.' For us, the congregation is the local church/ekklesia/assembly – we congregate in order  to form a local assembly! As well as the local church, though, there's a wider church which enables us to help each other, by sharing our thoughts and insights, and pooling resources to support each other in mission. In the URC we have eleven regional and two national Synods (Wales and Scotland) for that as well as the once-a -year General Assembly. This year, we will have to give time to all the necessary technical and legal business that keeps a large organisation running as smoothly as possible. Also, along with other things, we'll hear about a review of how we work as a Church in times that have changed. We'll decide on a new environmental policy for our denomination. We'll ask ourselves about the best way to respond to bits of our history we don't want to celebrate, particularly the lasting legacy of slavery in both church and society. I'm looking forward to taking part in General Assembly, but your prayers for our gathering would be very welcome.
Trevor
Prayer
O God, thank you for church. Thank you for local congregations. Thank you for the wider church. Enable every part of your Church to give glory to you. Amen
WORSHIP SERVICES AT ST COLUMBA'S
WORSHIP SERVICES THIS SUNDAY – Sunday 3rd July
10.30 a.m. service at church
A service led by Trevor Jamison, on the theme of talking with others about God, and handling rejection when others don't want to know.
6.30 p.m. Zoom service
Led by Trevor Jamison
On the theme, "I never boast about anything except …"
To join Zoom Meeting https://us02web.zoom.us/j/81756258659
Meeting ID: 817 5625 8659          Phone: 0131 460 1196
Image by congerdesign from Pixabay
NEXT WEEK – Sunday 10th July
10.30 a.m. Communion service at St Columba's    Led by John Drew
Bible readings for this week
Bible readings for this week                
Isaiah 66:10-14                  Rejoice along with Jerusalem
Psalm 66:1-9                      'Make a joyful noise to God, all the earth'
Galatians 6:(1-6), 7-16       'Let us not grow weary in doing what is right'
Luke 10:1-11, 16-20           Jesus appoints seventy followers to speak on his behalf
You can read the Bible passages online at https://www.biblegateway.com/
Reflection on the Readings               Know this …
'Yet know this: the kingdom of God has come near.' (Luke 10:11) Jesus has sent out seventy or so of his disciples to visit towns and places he intends to visit. (10:1) They are to travel light  and stop for no one. (10:4) In towns they visit they should stay with supporters, accepting their hospitality. (10:7) Their twin tasks on this mission are to 'cure the sick' and tell them 'the kingdom of God to you.' (10:9) Another way of translating the words of Jesus is, 'the kingdom of God is at hand for you.' Jesus is not expecting everyone to respond positively to the message. He's clear that some people will reject it. (10:10) When that's the case Jesus's followers should make clear that they are now moving on in search of a more sympathetic response. This is put in quite stark terms: 'even the dust of your town that clings to our feet, we wipe off in protest against you.' (10:11a) Yet even in such circumstances there is hope, for, as the rest of the message goes, 'yet know this, the kingdom of God has come near.' (10:11) Maybe when Jesus himself pays a visit there may be a more positive outcome. So we should not get disheartened when others don't respond well to what we have to say about Jesus. There's still time, and they may respond differently to someone else. It's not all down to us.
Image: Icon of the seventy disciples. Ikonopisatelj – http://chattablogs.com/aionioszoe/archives/70Apostles.jpg, Public Domain, https://commons.wikimedia.org/w/index.php?curid=3536332
A Hymn that responds to the readings
God's Spirit is Deep in my Heart, with its refrain, "And go tell everyone the news that the kingdom of God has come"  To listen, click here
News and Notices
On the Bus to Beamish       Saturday 2nd July, 9.00 a.m.

The bus, for those booked and travelling to the Synod day at Beamish, leaves from the church at 9.00 a.m.   At 5.00 p.m it leaves Beamish to return to North Shields.
St Columba's is covering the cost of the bus, though anyone who wants to make a cash donation on the day will be able to do so.
Image by Gordon Johnson from Pixabay
United Reformed Church General Assembly, 2022
The General Assembly, with representatives from our churches across England, Wales and Scotland, meets annually to celebrate, discuss, worship and make decisions about the life and work of the URC. It is four years since the last in-person meeting. This year the meeting takes place at the Hayes Conference centre in Derbyshire, from the 8th to the 12th of July.
Please remember Assembly representatives in your prayers. You can read this years Book of Reports, which forms the basis for discussions, by clicking here
Image: The United Reformed Church
North Tyneside Young Carers
At the service on 26 June, our minister presented a cheque for £1,000 to Peter Thorp – Young Carers Service Manager from North Tyneside Young Carers.  During the service, Peter told the congregation of St Columba's about the vital work the Young Carers Centre is involved in and the help and support they provide to Young Carers in North Tyneside.  The money was raised at the successful Platinum Jubilee Weekend coffee morning and faith lunch which took place on the 4 and 5 June.
You can find more details about North Tyneside Young Carers by clicking here
Next Week's Update
Next week's Update will be edited by Trevor Jamison.  To get your information in both the online and printed editions, please have it with him by Tuesday.
Keeping in Touch
You can contact your Elder, the Minister, or Church Secretary.
Minister: The Reverend Dr Trevor Jamison     Church Secretary: Alison Drew
minister.northshieldsurc@gmail.com               [email protected]
0191 290 1193         07896 899538                 0191 251 9774
Copyright © 2022 St Columba's United Reformed Church, All rights reserved.
Registered Address:
St Columba's United Reformed Church
30 Northumberland Square
North Shields, Tyne and Wear NE30 1PW
United Kingdom
St Columba's United Reformed Church Charity is a registered charity in England & Wales, number 1164784.