St Columba's United Reformed Church
30 Northumberland Square | North Shields | NE30 1PW
Weekly Update #107 
8th May 2022
From the Minister                                                               Good Shepherds
When I was in my twenties and living in Belfast, three or four of my friends would say farewell to one another with the words, "See you at The Good Shepherd." I thought they were meeting up for drinks at a pub. It turned out, though, that they were all attending a midweek student service at The Church of the Good Shepherd! Some churches mark this Sunday as 'Good Shepherd Sunday', as the Gospel reading set for the day (from John 10) relates to Jesus describing himself as 'the good shepherd.' I suppose if Jesus is our shepherd then that makes his followers sheep, which doesn't sound very complimentary, though, given the human propensity to go astray, might not be too far off the mark at times. This Sunday, at church, we welcome three Elders – one for an additional period of service, and two for the first time. In our Reformed tradition, Elders, along with Ministers, have responsibility for the "pastoral care" of the congregation. They are pastors/shepherds for the flock/congregation. That's a big responsibility, one which deserves all our support and prayers.
Trevor                                 Photo by Onur Binay on Unsplash
Prayer
Eternal God, accept our commitment to care for each other, and give us grace to make that a reality, so that we may not fail you in the end but give you glory and honour by the way we live together. We ask this in the name of our Good Shepherd, Jesus Christ.
Amen.
(Based on a prayer in 'Worship From the URC', p. 258.)
WORSHIP SERVICES THIS SUNDAY – Sunday 8th May
10.30 a.m. Communion Service at church
This service, led by Trevor Jamison, will include the ordination and induction of new Elders for service at Saint Columba's
NEXT WEEK – Sunday 15th May
10.30 a.m. service at church
Led by Trevor Jamison, marking the beginning of Christian Aid Week
6.30 p.m. Churches Together Service for Christian Aid Week at St Columba's
A service hosted by Saint Columba's, and led by members of our congregation
Bible readings for this week
Acts 9:36-43              Tabitha is brought back to life by Peter
Psalm 23                   The Lord, my Shepherd, rules my life
Revelation 7:9-17     'The Lamb … will become their shepherd'
John 10:22-30          'My sheep hear my voice. I know them, and they follow me.'
You can read the Bible passages online at https://www.biblegateway.com/
Reflection on the Readings                    Psalm 23
Psalm 23 is the best-known of the biblical psalms. In fact, it's one of the best-known parts of the whole of the Bible. Frequently, it's the Bible passage people choose to have read at a funeral, either their own or that of a family member. And that's also true, perhaps especially so, when those choosing are not habitual Bible readers. Probably, it gets chosen because it's more familiar than other readings, and because if references 'the valley of the shadow of death'; at least it does so in some older translations. It's doubtful if it will get requested so frequently, as knowledge of the content of the Bible diminishes further in the popular imagination. Even if it is not so well-known, however, Psalm 23 is for all times, including difficult times, because it speaks powerfully about existence, life and the future. There is a God who cares for us (1), sustains us (2), shows us the right way to live (3), is with us in the difficult times (4), is generous to us (5), and whose goodness and mercy is available to us for our entire lives (6). Psalm 23 – it's well worth reading.

Image by wisconsinpictures from Pixabay
Hymns that respond to the readings – Six sung versions of Psalm 23
First, to the tune, Crimond, which some will regard as the 'correct' version!
To listen Click Here
Brother James' Air is a respectable traditional alternative tune to Crimond
To listen Click Here
But is this version from Stuart Townend now the 'new norm' for Psalm 23?
To listen Click Here
And then there are other versions, both old and new …
'My Shepherd Will Supply My Need' by Isaac Watts, from the late 17th century
To listen Click Here 
'The King of Love my Shepherd is', from the 19th century
To listen Click Here 
And finally, from Marty Haugen, in the twentieth century, 'Shepherd me, O God'
To listen Click Here
News and Notices
After-Service Tea and Coffee – wear your mask and collect your drink
From Sunday May 8th we cease "table service" (which requires more volunteers) and return to our previous practice, that those wanting tea or coffee can collect their drinks from the kitchen hatch, as long as they are wearing a mask when doing so: No Mask, No Service!
Christian Aid Week Events – 15-22 May – activities, events, and worship
Envelopes for donations will be made available from the 1st of May. Anyone able to deliver envelopes in their street please contact Shirley.
Christian Aid Coffee Morning at Hawkey's Lane Methodist Church, Saturday 14th May, 10.00-11.45 a.m. – St Columba's is organising the Cake Stall, so all donations will be gratefully received.
From May 24th – No Longer Jew or Greek, Slave or Free, Male and Female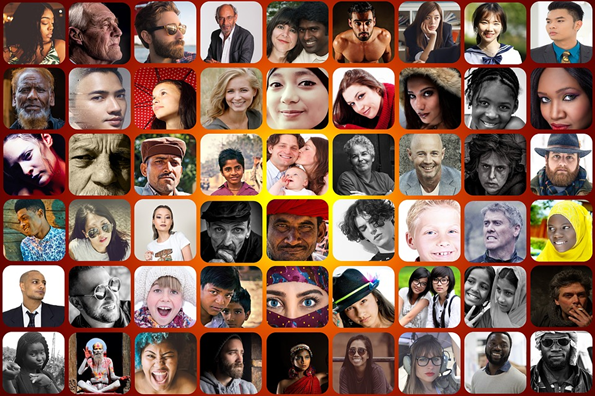 Three meetings, exploring and celebrating being diverse people, united in one Church – Tuesdays on Zoom, repeated in-person on Thursdays
The Apostle Paul wrote, 'in Christ Jesus you are all children of God through faith … There is no longer Jew or Greek, there is no longer slave or free, there is no longer male and female; for all of you are one in Christ Jesus.' (3:26, 28) In three ninety-minute conversations, led by Trevor Jamison, we'll  discover how being united in following Jesus involved demolishing three great divisions that characterised Paul's world, and ask what that means for being Church in today's world and relating to each other.                                                               Image by 
Gerd Altmann
 from 
Pixabay
Meetings on Zoom, Tuesday May 24th, 31st and June 7th at 7.15 p.m.
T0 Join Zoom Meeting Click Here
Meeting ID: 868 3008 2761  To join by phone: 0131 460 1196
Meetings in-person, Thursday May 26th and June 2nd and 9th at 7.15 p.m.
at Saint Columba's United Reformed Church, North Shields,
Help Me Be Digital Project – drop-in sessions on Tuesdays in the Church Hall
VODA sessions offering free advice to anyone who wants to make the most of their phone or other digital device, such as how to create and use an email address; using online shopping for groceries; installing and using apps like Skype and Zoom; accessing online GP and prescription services; and many other uses. From Tuesday May 10th  in the church hall, 11.00 a.m. – 1.00 p.m.
Memories of North Shields Good Friday Parades – another chance to share your memories – Tuesday 10th May, at Saint Columba's
The local volunteer group, 'Remembering the Past' is continuing its work of capturing memories of Good Friday walks of witness that have taken place in North Shields. If you have memories to share, then come along to the church on Tuesday 10th May, 11.00 a.m. – 1.00 p.m., to chat to a representative from the group.
Keeping in Touch
You can contact your Elder, the Minister, or Church Secretary.
Minister: Reverend Dr Trevor Jamison            Church Secretary: Alison Drew
minister.northshieldsurc@gmail.com               [email protected]
0191 290 1193         07896 899538                 0191 251 9774
Copyright © 2022 St Columba's United Reformed Church, All rights reserved.
Registered Address:
St Columba's United Reformed Church
30 Northumberland Square
North Shields, Tyne and Wear NE30 1PW
United Kingdom
St Columba's United Reformed Church Charity is a registered charity in England & Wales, number 1164784.