St Columba's United Reformed Church
30 Northumberland Square | North Shields | NE30 1PW
Weekly Update #103
10th April 2022
From the Minister                        Palms or Passion ?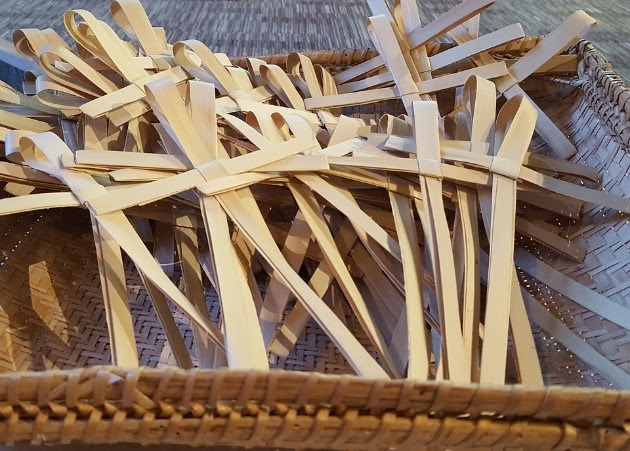 So, it's Palm Sunday, or is it? Yes, of course it's Palm Sunday, celebrating Jesus's entry into Jerusalem, riding on a colt, even though this year's Gospel reading for the day makes no mention of palms. (see the comment on the Bible readings, below, for more about that). It's also Passion Sunday – the beginning of the week that remembers Jesus's betrayal and death. Of course, Easter Sunday and the resurrection are coming along soon after that, but it's unwise to leap straight from Palm Sunday to Easter Sunday; from excitement to joy, without any suffering in between. Life's not like that, as the past couple of years have amply demonstrated. True and powerful resurrection includes the realities of suffering and death, but then overcomes them, as Jesus demonstrates in the days ahead.
Trevor                                    
Image by Poppy Thorpe from Pixabay
Prayer
Lord Jesus, accept our songs of praise as you journey to your cross; and enable us both to grieve at its necessity and to be renewed by its power; for your own name's sake. Amen
(C. N. R. Wallwork)
WORSHIP SERVICES AT ST COLUMBA'S
Sunday 10th April   Palm Sunday / Passion Sunday
10.30 a.m. communion service at church, led by Roberta Ritson and Trevor Jamison, and welcoming Liz Morrell as a new member at St Columba's
HOLY WEEK AND EASTER SERVICES
Thursday 14th April – 7.00 p.m. Maundy Thursday Service in the Lishman Hall
A reflective service, remembering the Last Supper, including communion
Friday 15th April – Churches Together Walk of Witness
10.00 a.m. Walk of Witness – gathering at Alexander Scott Park, off Coach Lane, journeying via Bedford Street to Pearson Park, near the police station.
Friday 15th April, 11.00 a.m. – Messy Church at Saint Columba's  – for all ages, with crafts, fun, and a hot cross bun. More information here
Easter Sunday
Easter Breakfast    8.30 a.m. – 9.30 a.m. in the Lishman Hall
There will be a short act of worship during the first fifteen minutes of breakfast. Diners and worshippers are free to arrive and go at any time during the hour.
Easter Morning Worship 10.30 a.m. at the Church
A celebration of the resurrection of Jesus Christ in a service including communion.
Easter Evening Worship  6.30 p.m. on ZOOM
Music, prayer, and celebrating the Gospel account of meeting Jesus on the road to Emmaus.      Join Zoom Meeting        https://us02web.zoom.us/j/84388913082
Meeting ID: 843 8891 3082          Phone: 01314601196
Bible readings for this week
Palms and Passion
Liturgy of the Palms
Psalm 118:1-2, 19-29        Luke 19:28-40
Liturgy of the Passion
Isaiah 50:4-9a
Psalm 31:9-16
Philippians 2:5-11
Luke 22:14-23:56 or Luke 23:1-49
Image by Jeff Jacobs from Pixabay
Reflection on the Readings                  From Cradle to Cross
'Blessed is the king who comes in the name of the Lord! Peace in heaven and glory in the highest heaven.' (Luke 19:38) If you go looking in Luke for palms you will look in vain. He doesn't mention them (go to John 12:13). Likewise, Luke lacks 'hosannas' (try John again, or Matthew 21:9 and Mark 11:9-10). What Luke alone gives us, however, is mention of 'peace in heaven and glory in the highest heaven.' It's an echo of the angels, announcing Jesus's birth to shepherds in the fields near Bethlehem: 'Glory to God in highest heaven, and on earth peace among those whom he favours.' (2:14) The life begun at Bethlehem is coming to its conclusion in Jerusalem (or is it?). The people 'praise God joyfully' (19:37), celebrating what's happened up to this point in life story of Jesus. At the start of the week of Jesus's betrayal and death, what one thing do you most want to celebrate about his life up to this point?

You can read the Bible passages online at https://www.biblegateway.com/
A hymn that responds to the readings
A hymn that links Jesus riding into Jerusalem with his ultimate destination: Ride On, Ride On in Majesty, Sung by the choir of Fifth Avenue Presbyterian Church, New York City
to listen click here
Keeping in Touch
You can contact your designated Elder, the Minister, or Church Secretary.
Minister: Reverend Dr Trevor Jamison            Church Secretary: Alison Drew
minister.northshieldsurc@gmail.com               [email protected]
0191 290 1193         07896 899538                 0191 251 9774
Copyright © 2022 St Columba's United Reformed Church, All rights reserved.
Registered Address:
St Columba's United Reformed Church
30 Northumberland Square
North Shields, Tyne and Wear NE30 1PW
United Kingdom
St Columba's United Reformed Church Charity is a registered charity in England & Wales, number 1164784.